---
Main content
Top content
Course of Studies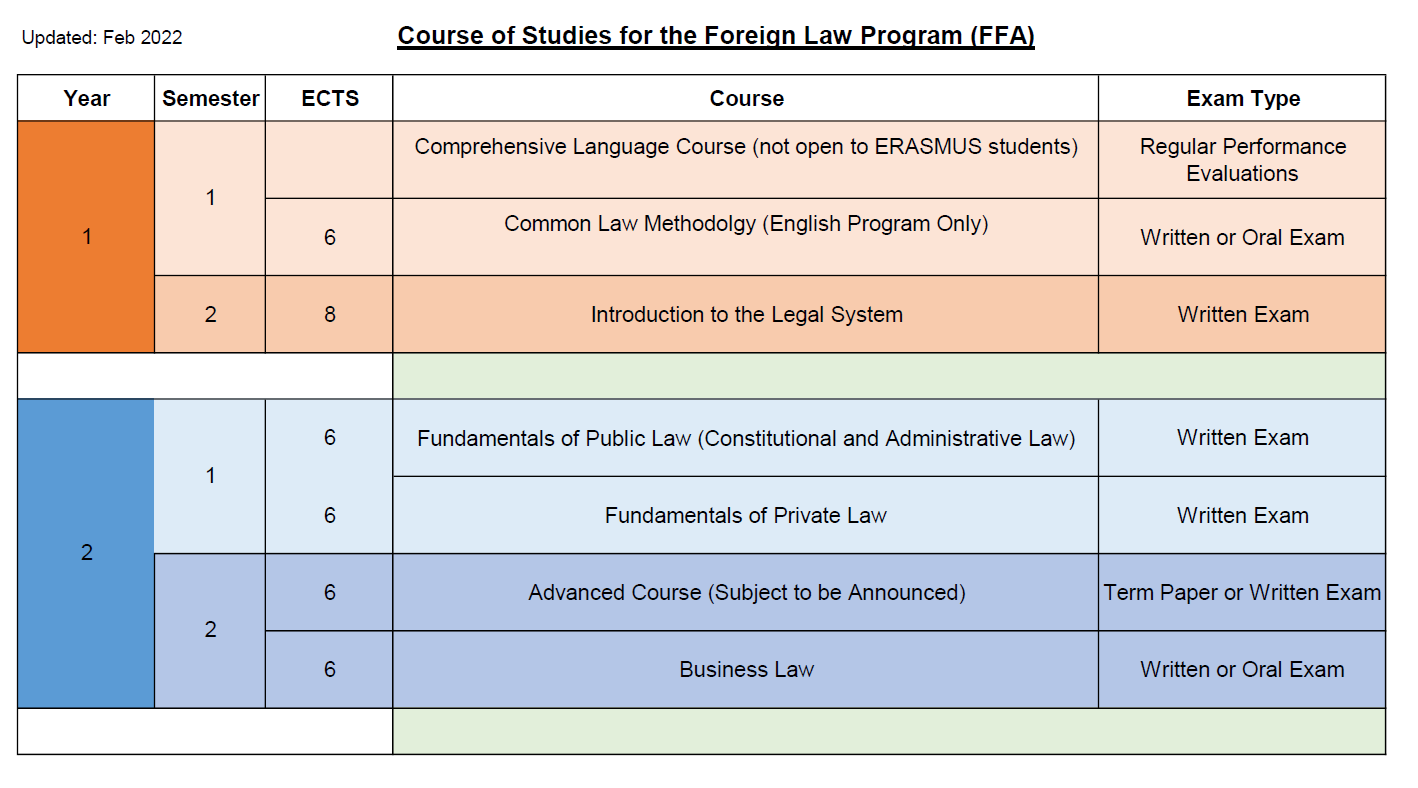 Top content
Other than the first semester language course, all of our courses are open to visiting students. These courses are taught in four languages:
English (USA and UK),
Chinese,
French and
Spanish.
The language level for all courses except Chinese is B2, however visiting student are welcome to join these courses regardless of their language level.
Exams & ECTS Points - ERASMUS students who need to complete an exam in order to get more ECTS points can take the exam type listed in the table above or come to an agreement with the course instructor regarding a different kind of exam.
Course Descriptions
Common Law Methodology – our two English programs cover legal systems that are based on common law. Thus, it is important that students in these programs have a basic understanding of what a common law legal system is and how it functions. This courses aims to introduce students in both Englisch-USA and Englisch-UK to the common law legal system.
Introduction to the Legal System – we offer students in all of our programs this 4 SWS course that seeks to expand their legal vocabulary and introduce them to various areas of the law. This introduction course for the civil law languages is split up into two parts: private and public law. The introduction course for the common law languages cannot as easily be broken down into these two board areas of law, but rather focus on specific areas of law such criminal law, tort law, contract law and property law, to name a few. Regardless of whether students are visiting a civil law or common law version of this course, they will be introduced to a wide range of legal areas which will most certainly broaden their legal vocabulary.
Fundamentals of Public Law – While this course concentrates mostly on constitutional law, elements of administrative law will also be brought into the discussion. In most of our program's courses both government structures and fundamental rights are covered, however the Englisch-US version of this course only covers fundamental rights. Government structures are covered in the Introduction to US Law course.
Fundamentals of Private Law – how this course is approached will vary, sometimes greatly, depending on the language. Students attending one of the two common law versions of this course should expect to find a mixture of tort law and contract law.
Business Law – This course will primarily focus on different kinds of business associations and the legal issues related to each. Once this is covered, each of our courses go in slightly different directions depending on the instructor. For example, the U.S. version of the course steers towards employment law, while the U.K. version tends to go deeper into company law issues.
Advanced Course – in the final semester, all of our languages offer an "advanced course" that will vary from language to language and year to year. Examples of past courses include: criminal law, criminal procedure, and intellectual property law to name a few.